Suitable for all air conditioning and ventilation applications. The Inter-Fold is a compact and economical air filter which features low operating costs along with a high dust holding capacity.
DESIGN AND CONSTRUCTION
Filter Media
Designed to achieve medium efficiency and dust holding capacity, Inter-Fold's filter media comprises of high performance, non-woven, reinforced cotton/poly fabric. When tested against the ASHRAE procedure the Inter-Fold will has an average efficiency of 30-35% + and an arrestance of 92%.
Radial Pleat Design
Inter-Fold's exclusive radial 'V' pleat design guarantees total use of the filter media, as well as maximum dust holding capacity and extended service life.
Enclosing Frame
The enclosing frame is constructed of rigid, heavy-duty and moisture resistant kraft board. The filter pack is bonded to the inside of the periphery of the frame to eliminate the possibility of air by-pass. Importantly, the support members are bonded to each pleat on the upstream and downstream side to ensure pleat spacing and stability.
Media Support Construction of an Inter-Fold Filter
The unique media support is an expanded diamond grid with 98% open area. The filter media is chemically bonded to the support to ensure pleat stability throughout the life of the filter.
The Inter-Fold is totally disposable. A simple retro-fit can upgrade any new or existing air filtration system to incorporate IFC's Inter-Fold. Its greater dust holding capacity extends replacement intervals, and used as a pre-filter, considerably lengthens the service life of any other secondary filters in the system.
PERFORMANCE DATA – INTER-FOLD
The Inter-Fold may be operated at varying velocities up to 2.54m/s for the 25mm and 50mm filters, and up to 3.17m/s for the 100mm filter.
Filter Media Area:
25mm deep filter: 2.3m2 of media per 1m2 of face area. 49 pleats per linear metre.
50mm deep filter: 4.6m2 of media per 1m2 of face area. 46 pleats per linear metre.
100mm deep filter: 7.0m2 of media per 1m2 of face area. 34 pleats per linear metre.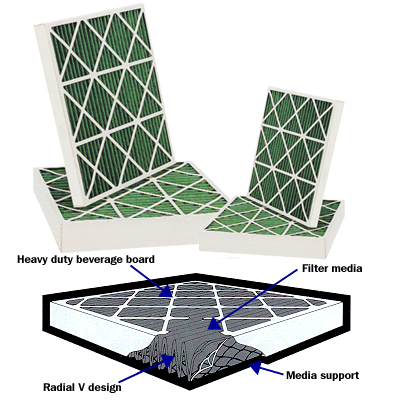 SPECIFICATIONS – INTER-FOLD
Due to ongoing research & development, Clyde-Apac reserves the right to modify the product & specifications without notice.
Clyde-Apac Laminar Air Flow equipment & HEPA filter products available from authorised dealers and distributors